Introduction
For years, friends and clients have encouraged me to write a book about something. When I was in the corporate world, the recommended subject was "managing sales and salespeople." As one of the first Internet marketers and consultants, they suggested "advertising your business on the Internet." And for the past several years, it has been on "starting and succeeding in a new business." Until recently, when a friend and fellow small business consultant pointed out just how much these three subjects fit together, I had no desire to do so. But now I have.
My first business venture was in 1995, an Internet marketing company. It focused on advertising and selling golf, hospitality, and real estate services for clients in high profile resort and retirement markets such as Myrtle Beach, Hilton Head and Charleston, South Carolina. Since no one I knew of had ever started a business similar to this, I truly had to start from scratch. I had sales and management experience, knew how to read and interpret financial statements, and how to write a business plan. But actually starting a business? I didn't have a clue. There was no Internet to speak of then, so I had to rely on advice from others and "how to" books. But quite frankly, the books weren't much help. So hopefully this one will be to you.
In Psst, want to start a business? you will be introduced to the processes of starting and managing a successful business. These are the basics - - - just as important as laying a foundation for a house. And your new business will be your house, hopefully for many years to come.
We will talk about how to choose a business that is right for you - - - and what you must do to prepare yourself for success.
Reasons new businesses fail will be discussed, with ways to avoid them. You will learn the options and intricacies of acquiring financing; and you will discover creative methods of attracting and retaining customers and clients.
And finally, you will be given access to the management and leadership skills that you will need to succeed, and how to develop them.
Psst, want to start a business? is written and printed in an easy-to-read and understand format. Chapters are designed to be read sequentially or separately, depending on the reader's topic of interest

Table of Contents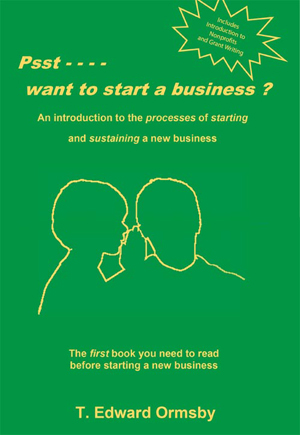 CHAPTER 1

So You Want to Start a Business - - - GREAT ! You CAN!

CHAPTER 2

The Business Plan - - - the most important part of starting a business

CHAPTER 3

Financing Your Business - - - and not running out of money

CHAPTER 4

How to Improve Your Credit Score - - - so you can get a loan


CHAPTER 5

Marketing Your Business - - - or attracting customers and clients

CHAPTER 6

Social Media Marketing - - - the "new" way to market your business


CHAPTER 7

Licenses, Taxes, and Recordkeeping - - - the most boring part of owning a business

CHAPTER 8

Nonprofits - - - serving others and yourself

CHAPTER 9

Grants and Grant Writing - - - free money?

CHAPTER 10

Home-Based Businesses - - - the safest way to start


CHAPTER 11

Managing Your Business - - - to success and happiness
Three ways to order!

$14.95 plus Shipping

FREE Shipping

PLUS

Autographed Copy

PLUS

FREE Highlighter

FREE Shipping

PLUS

Autographed Copy

PLUS

FREE Highlighter